Martin Hill and John Caveney
2021 Seniors Balfour Cup
Denton Golf Club – 12th August


Denton Golf Club had never previously hosted the Balfour Seniors, but the Balfour Cup itself was held there last in 2009 and the Houldsworth Cup in 1997. It was delightful to see it bathed in sunshine and offering a warm welcome, in more ways than one, and especially to those at the upper end of the Seniors' age range!
The B&H Chairman John Farmer took up his usual position as Mr Starter at 8.00 am and saw off the first of the 168 players taking part in the competition. These players came from 34 different clubs across the region and for the second year running we welcome 24 players from across the Pennines, mainly from the Halifax Bradley Hall Golf Club.
John Caveney and Martin Hill of Bury Golf Club were first off the Tee and were the first to return a score of 44 points. As the morning progressed six other pairs, who had been out before 10.00 am, returned scores of 43 point. There must have been something in the morning air, because there was then nothing better than scores of 42 points for the rest of the day. Between them players returned 65 Birdies and 2 Eagles. In total 21 pairs scored 40 point or better, but John and Martin's score was still the winning score at the end of the day.
Last year the Bury pair had been beaten into second place in the Seniors' Cup after a card play-off with a score of 48 points at Sale GC. Consequently, they said they were rather surprised but delighted to receive the phone call asking if they could return to Denton for the Presentation.
The remaining prizes had to be settled with card play-offs with the 6 pairs who had returned scores of 43 points. Harry Sharkey and Kieran Morley (Davyhulme Park) took second place, Iolo Williams and Andy Sandam (Worsley) took third place, while Paul Drury and Mike George (Sale) took fourth place.
On behalf of the B&H Competitions Committee, John Farmer expressed his thanks to Denton Golf Club for hosting the competition, for the excellent state of the course and the services provided to players in the Clubhouse. B&H President Keith Dingley presented a cheque to the Denton Lady Captain in appreciation of the club hosting the competition.
A total of £800 in Prize Vouchers were awarded to pairs to share and spend in the Pro's shop:
First - £300: Second - £250: Third - £150: Fourth - £100.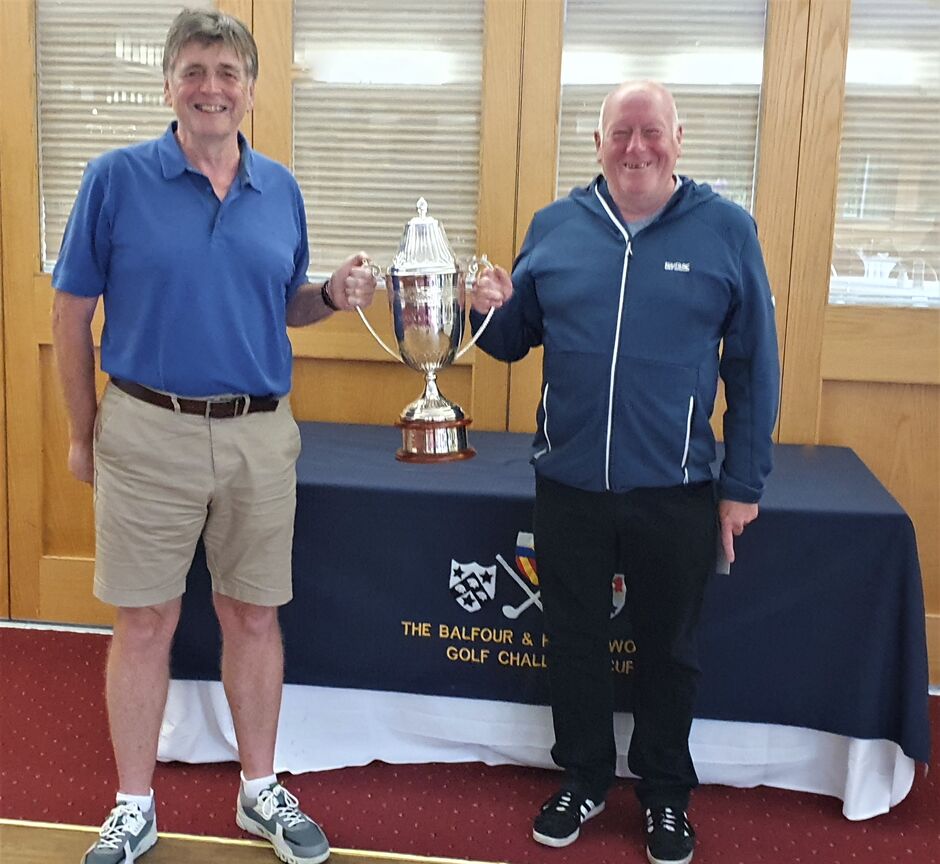 The 2022 Seniors Balfour will be played at Northenden Golf Club on 11th August 2022.
The Tee-sheet is now open for those who would like to secure their preferred times.


In less than 48 hours after the 2021 Competition ended the 2022 Tee-sheet was more than 33% full !