2020 Balfour Cup





Dave Wright
Worsley Golf Club

Best Nett 64




Played at Disley Golf club, 11th October.



It was good to see that the strong winds had blown away the rains of the previous few days, and that the B&H Committee Members were able to set up their portable gas-heated reception gazebo, in the bright morning sunshine. Because of the conditions it was decided to opt for placing on closely mown areas.
The tee-sheet had been full for some time, and as soon as anyone had to withdraw, there was another player waiting to take his place. Tee-sheet numbers were only limited by the shortage of daylight in October, but 117 players had their names on the list. Members from 34 different clubs took part in the 2020 Balfour Cup, with 34 being Disley members, while Stand GC and Worsley GC between them added another 26.
As the last players went out at 2.20 pm it was time to start inputting the scores on to the computer. By chance, the very first score recorded into the laptop, for the first team out was an Eagle 3 scored by James McCormick (-2) of Disley. He did slip up a little with two bogies on the par 3 holes, 6 and 15, but the rest of his round was quite magnificent. It was made up of 8 pars, 7 birdies and an Eagle. His score of 64 gross translated into a 66 nett, once his -2 had been added. (Wow!) One of his playing partners, Mike Ward (5) also of Disley, returned a very respectful score of 69 nett.
A couple of hours later Dave Wright of Worsley (13), came home with another 64 nett, taking the overall lead from James McCormick. Dave had started well with a birdie 4 on hole one, but then he must have thought his day was coming to a sticky end, when he dropped 6 shots over the next 4 holes. Thankfully, things slipped into place for Dave and he only dropped 1 shot on the remaining 13 holes, 10 pars and a birdy 3 on the 386-yard 17th hole. (Another Wow!)
The bright sunny weather allowed for players to put in some good scores and 18 were level par or better. As well as James McCormick's Eagle, there were 80 Birdies recorded.
During the restrictions imposed by Covid-19, formal presentations are not part of the programme for the day, but if the occasion arises then Ad Hoc presentations are arranged. Dave Wright returned to receive his first prize voucher of £250. He was presented with the Balfour Cup and it was noted that he was the first Worsley GC winner of the Balfour Cup for 49 years! James McCormick was presented with a voucher for £150 for the best gross score.
A total of £775 in Pro shop vouchers was awarded to the winners.


1st Dave Wright (13) Worsley 64 nett - £250

2nd Paul Holtom (6) Disley 67 nett - £150

3rd Paul Caine (14) Brookdale 67 nett - £100

4th Michael Holtom (0) Hazel Grove 67 nett - £75

5th William Hendersom (6) Disley 68 nett - £50




Best Gross – James McCormick (-2) 64 gross - £150


Balfour and Houldsworth Chairman John Farmer thanked Disley Golf Club, first of all for being able to reschedule the Balfour Cup from its original date in May, and then for facilitating such a superb day as regards the arrangement for golf and the catering provided.


The 2021 Balfour Cup will be held at Davyhulme Park Golf Club on 9th May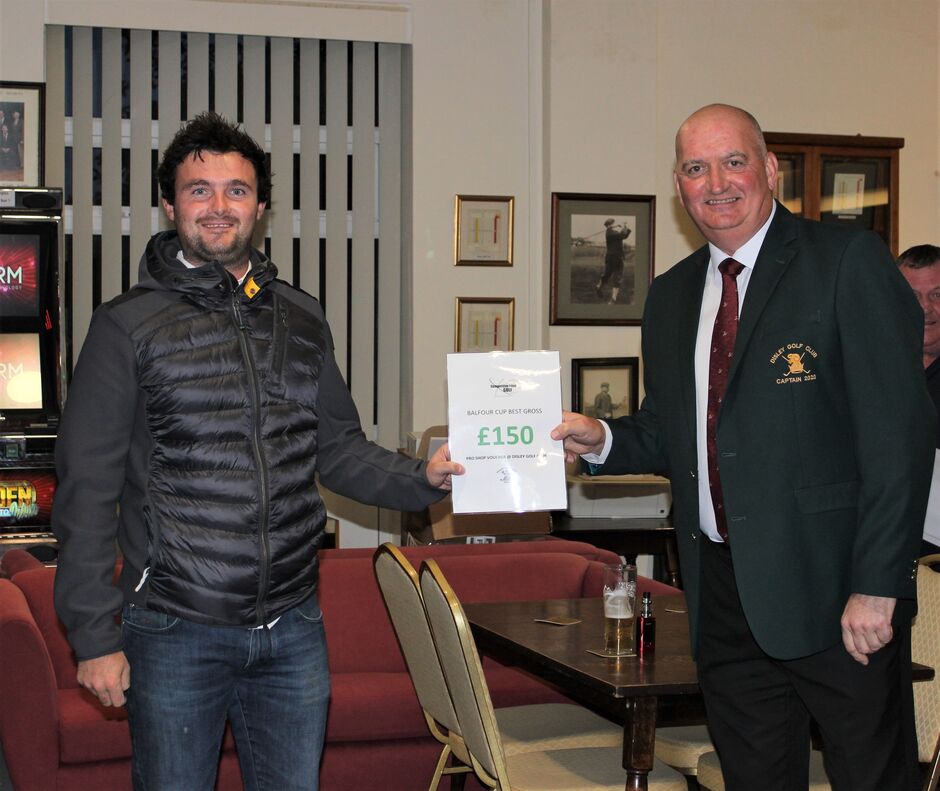 James McCormick (-2) receives his prize for Best Gross (64) from DGC Captain Dave Codd
The 2021 Balfour Cup
will be played at Davyhulme Park
Golf Club on Sundy 13th May
2021. The Tee-sheet will soon be open for those who would like to secure their preferred times.


BALFOUR & HOULDSWORTH COMPETITION S 2021