2021 Balfour Cup



Duncan Bracken
Davyhulme Park Golf Club

Best Nett 64




Played at Davyhulme Park Golf club, 12th May.



Although we were back to the usual month of May for the Balfour Cup, despite Covid-19 regulations still being in place, the heavy rains of the previous day had closed most golf courses in the area. It was a case of waiting for a course inspection at 7.00 am on Sunday morning to decide if it was going to be possible to play the competition. Davyhulme Golf Club had brought in extra staff and they were able to open the course for the planned start time of 7.50 am.
The tee-sheet had been full for some time, and as soon as anyone had to withdraw, there was another player waiting to take his place. It had been decided to have 3.00 pm as the final tee-time so this allowed for 132 players to take part in the competition.
Members from 26 different clubs took part.
Craig Jones (4) of Flixton Golf Club teed off at 8:20 and set the early pace with a gross 72 –nett 68. A few hours later Jake Rigby (14) of Davyhulme Park also came back with a nett 68. They were closely followed by Tony Ranicar (4) of Flixton GC, Simon Berry (13) of Stand GC and Jim O'Reilly (14) of Ellesmere GC, who all returned scores of 69 nett.
In the meantime, Duncan Bracken (11), who had been putting to good use the skills picked up in recent lessons with the club professional Martin Hamer, posted a nett 64. Duncan had dropped 3 shots on the first 9 and then came back in level par. This proved to be the winning score.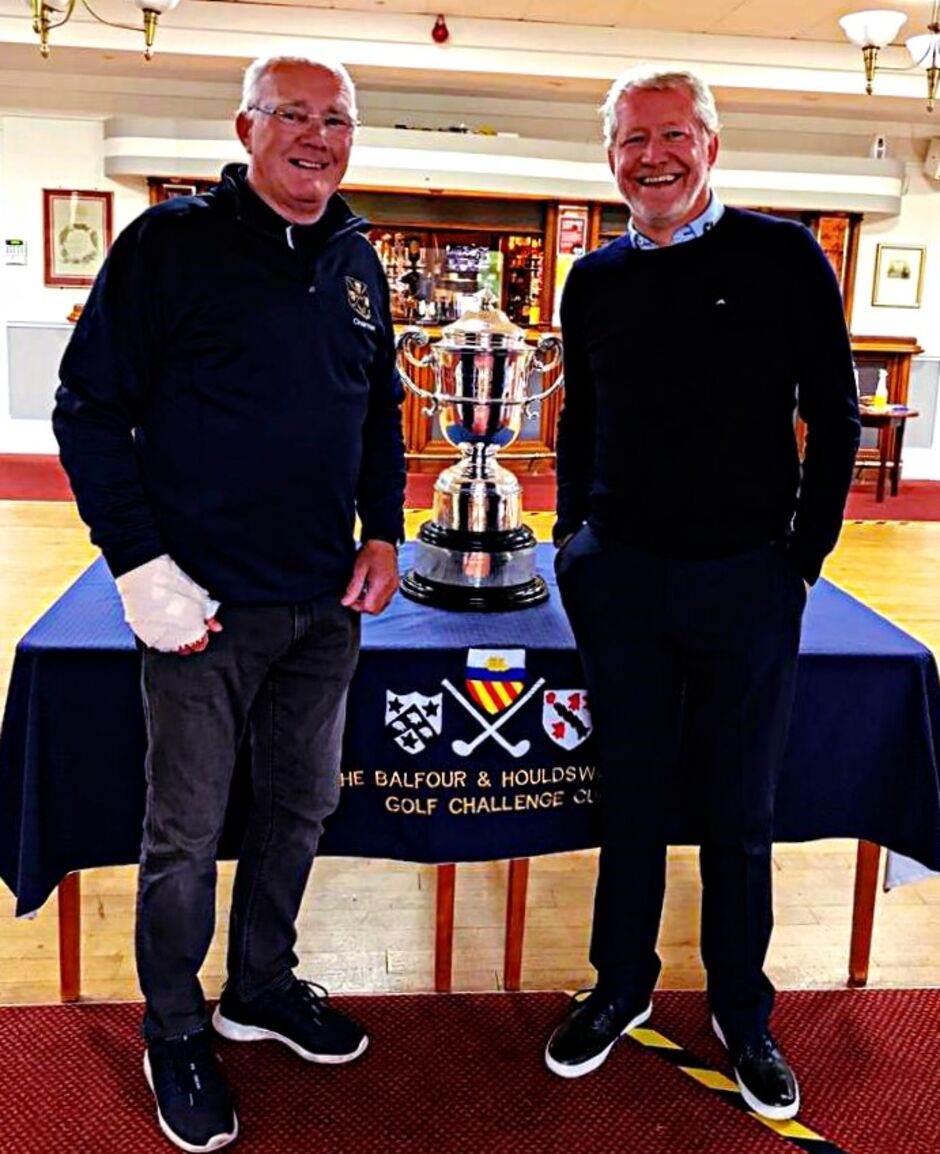 Mike Wallwork of Ringway - Best score of 68 gross
Mike Wallwork(-2) of Ringway GC posted the best gross score of a 68 – nett 70. Among his collection of Birdie Holes – 5 in total -were the 489 yard 2nd Hole and the 512 yard18th Hole. Just to prove his strength on long holes, Mike also picked up an Eagle 3 on the 502 yard 13th hole!
He was closely followed by Adam Griffiths(1) of Worsley GC with a 1 under par gross 71.
In total there were 129 Birdies + 3 Eagles during the course of the day.
B&H Chairman John Farmer played his usual role of Mr Starter for the day,and he found it very helpful that Davyhulme member Doug Craig arranged for all the players to proceed to the Tee at their appointed times. Mr Starter thanked Doug for his help and has noted that he would like such assistance at all future competitions!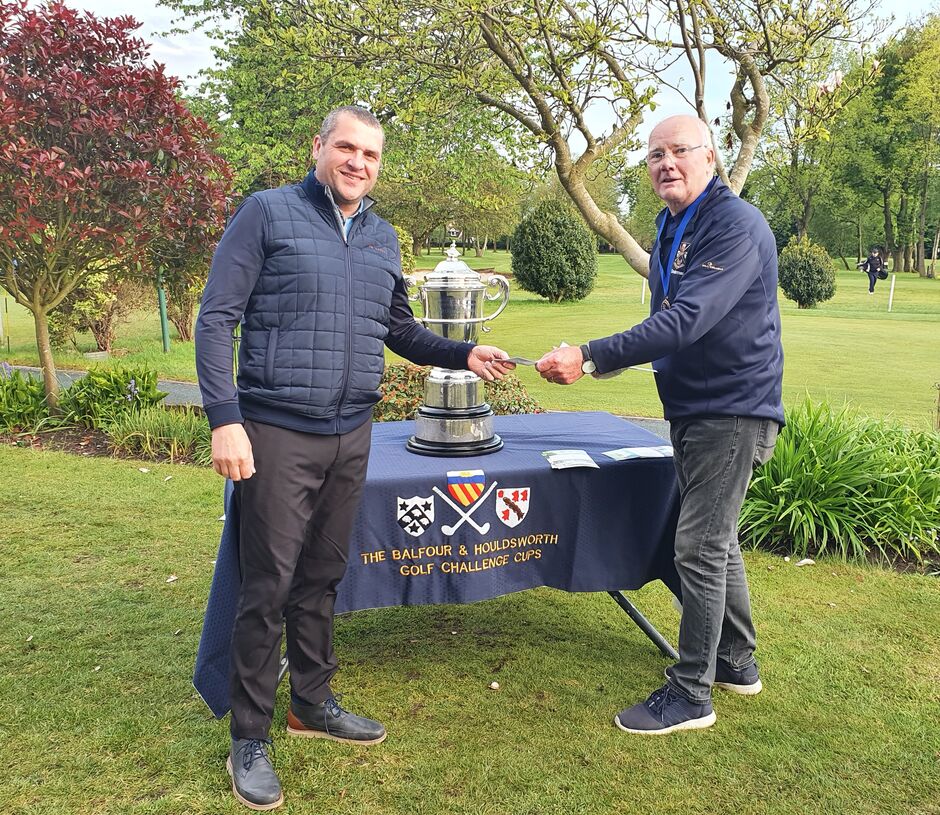 Craig Jones of Flixton - 2nd place with a nett 68
The weather in the evening became somewhat warmer and it was possible to hold the Presentations in the gardens next the clubhouse. Davyhulme Captain John Clutton had sent his apologies and the club was represented by the President Morris Daniels. B&H Chairman John Farmer began by giving honourable mentions to Dave Young of Didsbury GC (2)who had posted a 73 gross and Adam Griffiths of Worsley GC (1) who had returned a 71 gross. Just missing out on the prizes following card play-offs was Simon Berry (13) of Stand GC with his nett 69.
The Balfour and Houldsworth President, Keith Dingley, thanked Davyhulme Golf Club, first of all for hosting the Balfour Cup for the 5th time and being able to get the course into a playable condition, after such horrendous weather on the day before, and then for facilitating such a superb day as regards the arrangement for golf and the catering provided.
A total of £775 in Pro shop vouchers was awarded to the winners.


Nett Results & PrizeVouchers
1st Duncan Bracken (11) 64 £250
2nd Craig Jones (4) 68 £150
3rd Jake Rigby (14) 68 £100
4th Tony Ranicar (4) 69 £ 75
5th Jim O'Reilly (14) 69 £ 50
Best Gross & Prize
Mike Wallwork (-2) 68 gross - £150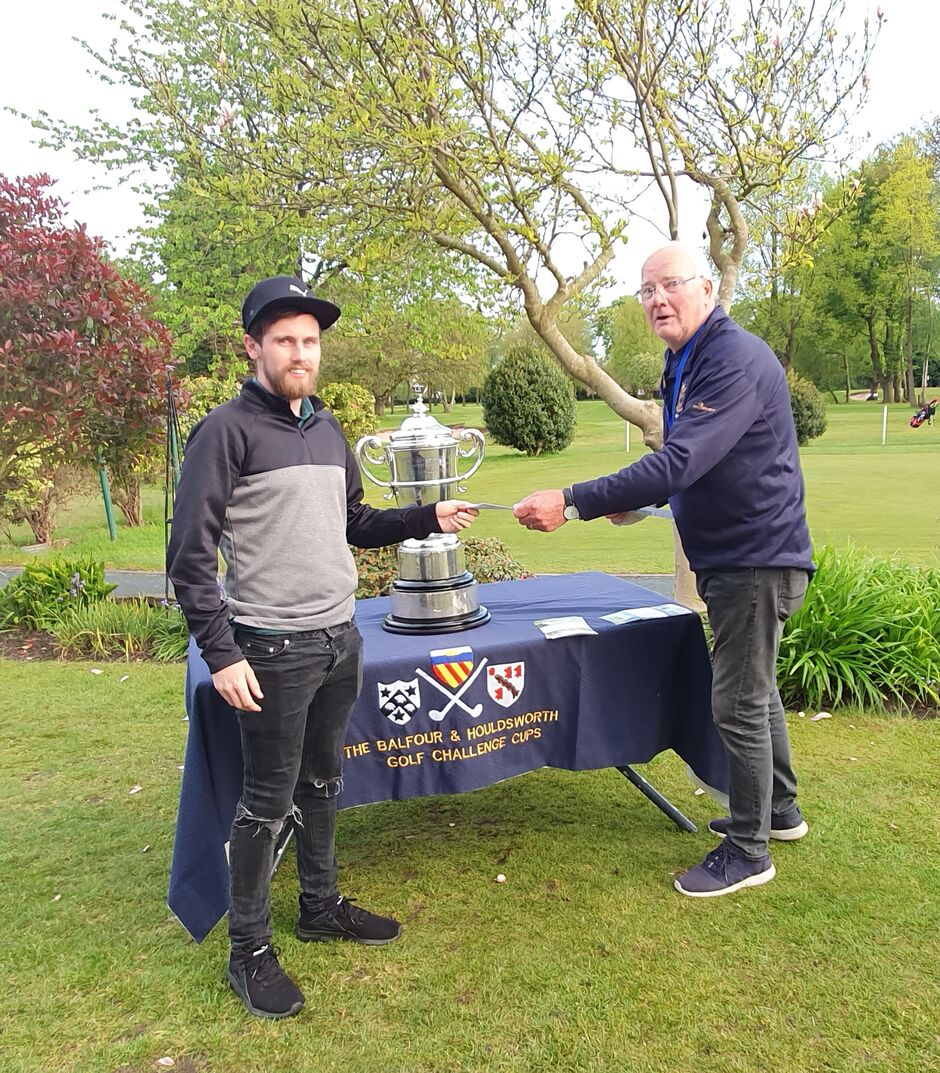 Jake Rigby of Davyhulme Park - 3rd with nett 68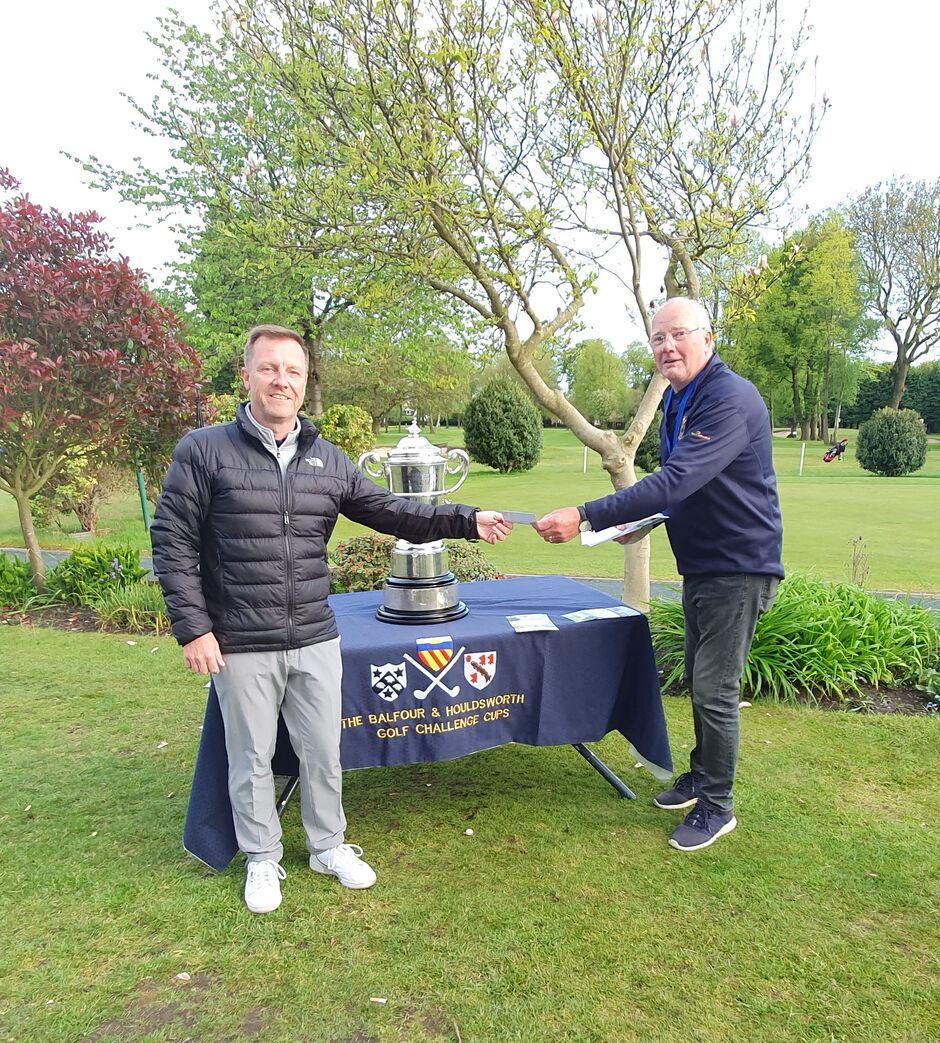 Tony Ranicar of Flixton GC - 4th with nett 69
The 2022 Balfour Cup will be held at Worsley Golf Club on 9th May