125th Anniversary of the Balfour Cup



Sam Lillie (7)
Stand Golf Club

Best Nett 67




Played at Worsley golf club 8th May 2022.



In 1897 Worsley Golf Club was one of the clubs which, in association with Lord Arthur Balfour and Sir William Houldsworth, had been instrumental in setting up the Balfour and Houldsworth Golf Challenge Cups. So, it seemed right and fitting for the B&H Committee to invite Worsley Golf Club to host the 125th Anniversary of the Balfour Cup. Worsley had hosted the second Balfour Cup in 1898 and then hosted a further 10 Balfour Cups over the next 124 years.
The tee-sheet had been full for over 3 months and a reserve list had been in operation, which meant that if any players had to withdraw, there were others waiting to take their places. An earlier than normal start time of 7.30 am allowed 141 players to take part in the 2022 Balfour Cup and between them they represented 28 golf clubs.
It was something of a relief to get the 2022 Balfour cup underway, without having to cope with the problems of recent years relating to Covid 19 Restrictions and severe rainfalls in the preceding days. The morning players had to contend with a slight breeze and cloudy conditions, but those who went out in the afternoon were treated to some Salford sunshine!
Jonathan Noblet of Worsley GC was an early starter out at 7.50 am and set the early pace when he returned a nett 70. Just over an hour later Sam Lillie of Stand Golf Club came home with a nett 67, having birdied the 2nd, 6th and 17th. However, the highlight of his round was an eagle 3 on the 490 yard 15th hole. This was going to be the score to beat for the rest of the day. Lee Wilson of Worsley GC came close with 69 as did Tim Green of Stockport GC with a nett 70, and Sam was left wondering if his score would be bettered as the last groups went out on the course
Rick Phillips was a late starter in more ways than one. He had filled a space which became available on the tee sheet just 24 hours before - something of a birthday treat! He teed off at 2.40 and had it not been for a four bogey start, he may well have bettered Sam's 67. In the end Rick had to settle for second place on a CPO with Lee Wilson both with nett 69's.
B&H Chairman John Farmer played his usual role of Mr Starter for the day, having been on site since before 7.00 am along with Pat Jackson, to hoist the B&H Flag, set up the 125th Anniversary banners and prepare the reception desk. Last year he noted that he had found it very helpful when Davyhulme member Doug Craig organised all the players to proceed to the Tee at their appointed times. So once again Doug was also there from early doors and marshalled all the players to the tee for their appropriate starting times.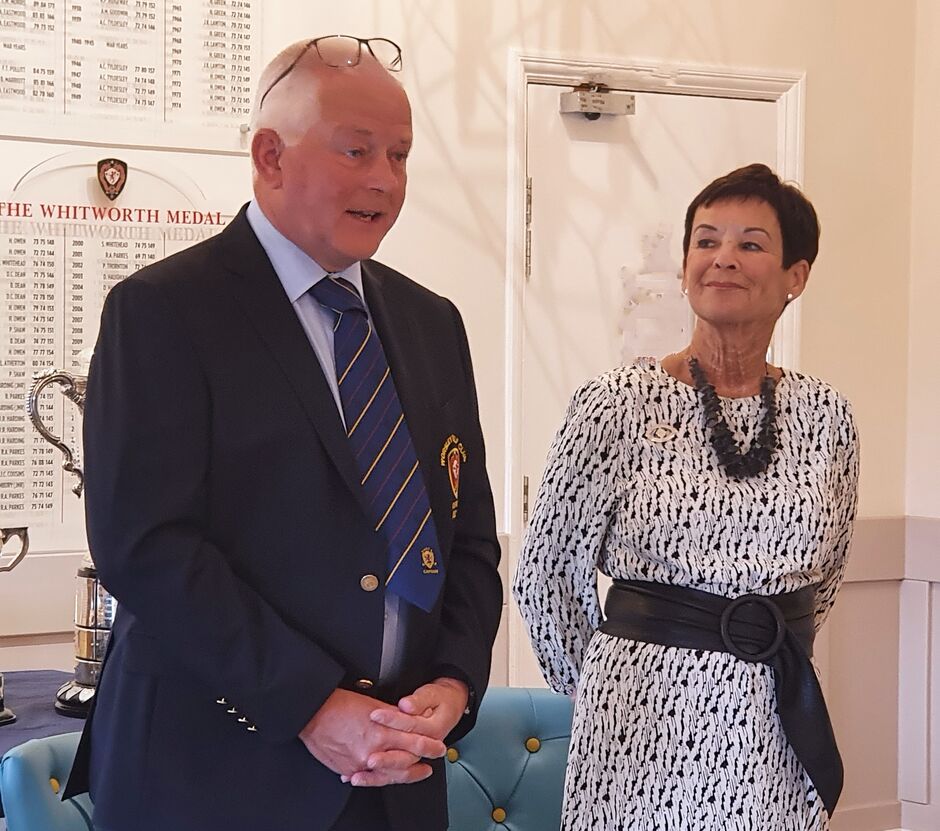 Worsley Captain Dave Wright, a recent winner of the Balfour Cup, was joined by Worsley President Mrs Pat Seddon, for the Presentation of the Balfour Cup to Sam Lillie. This was the first time that the Prize Vouchers presented to the winners had exceeded £1,000.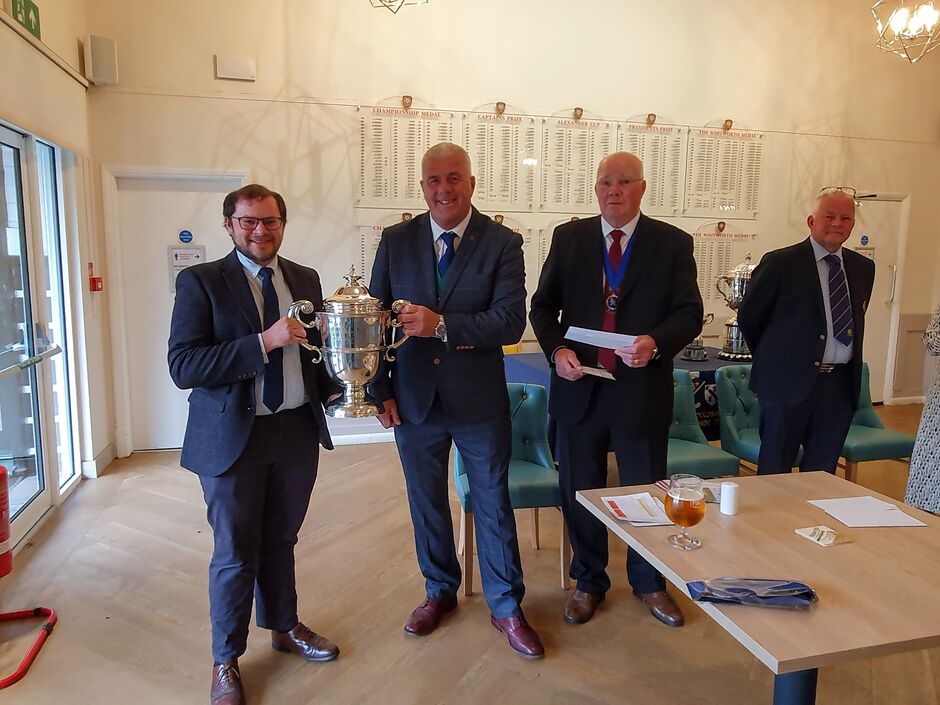 This photo of the Presentation is probably quite unique in that it shows the current Balfour Cup winner Sam Lille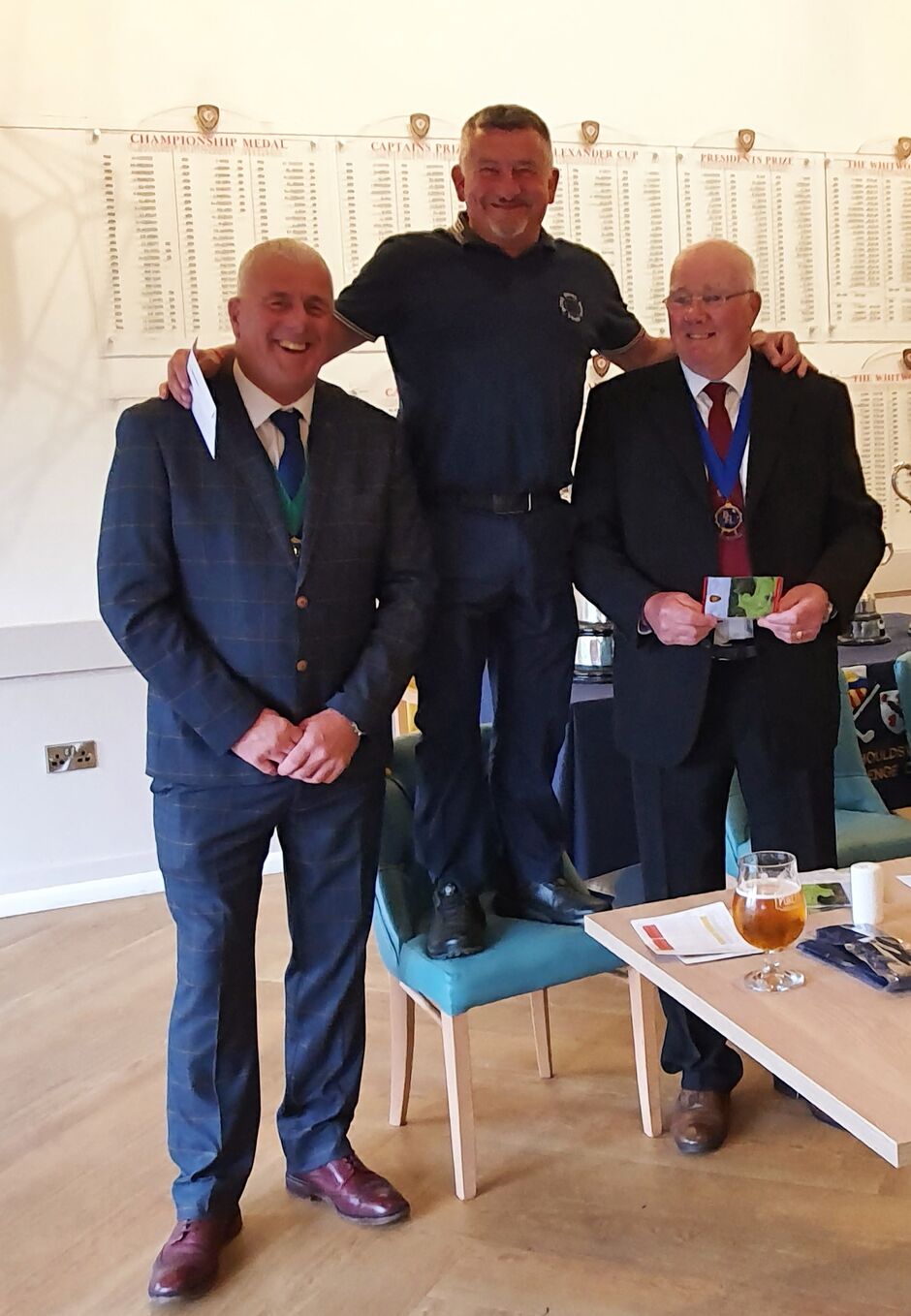 Richard Phillips (13) - 2nd place with a nett 69
"Rick Phillips was a late starter in more ways than one" -but searching for new heights!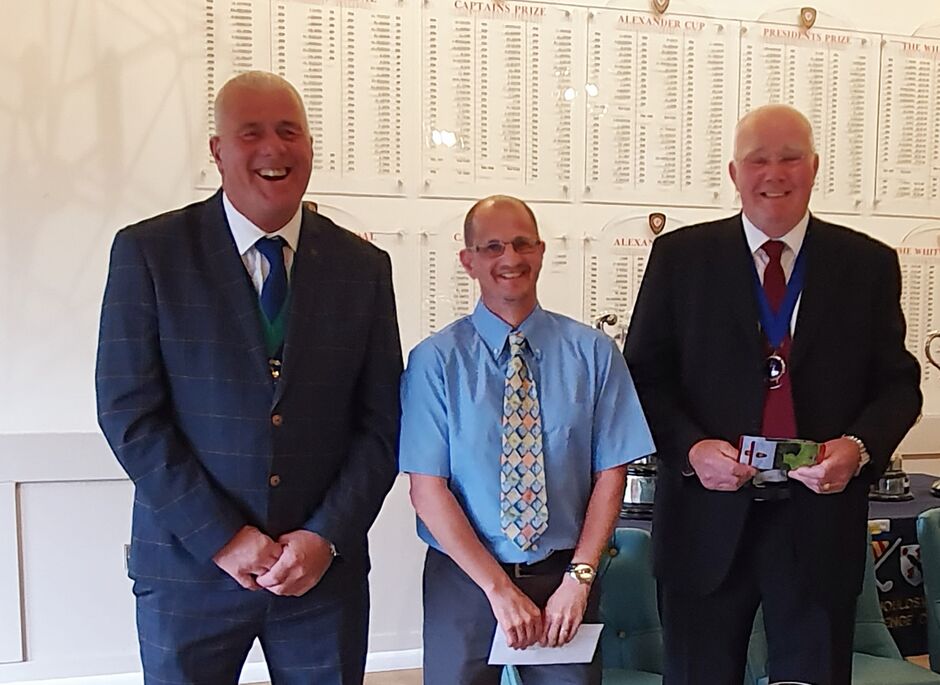 Lee Wilson of Worsley Golf Club - 3rd with nett 69
___________________
Tim Green of Stockport Golf Club - 4th with a nett 70
___________________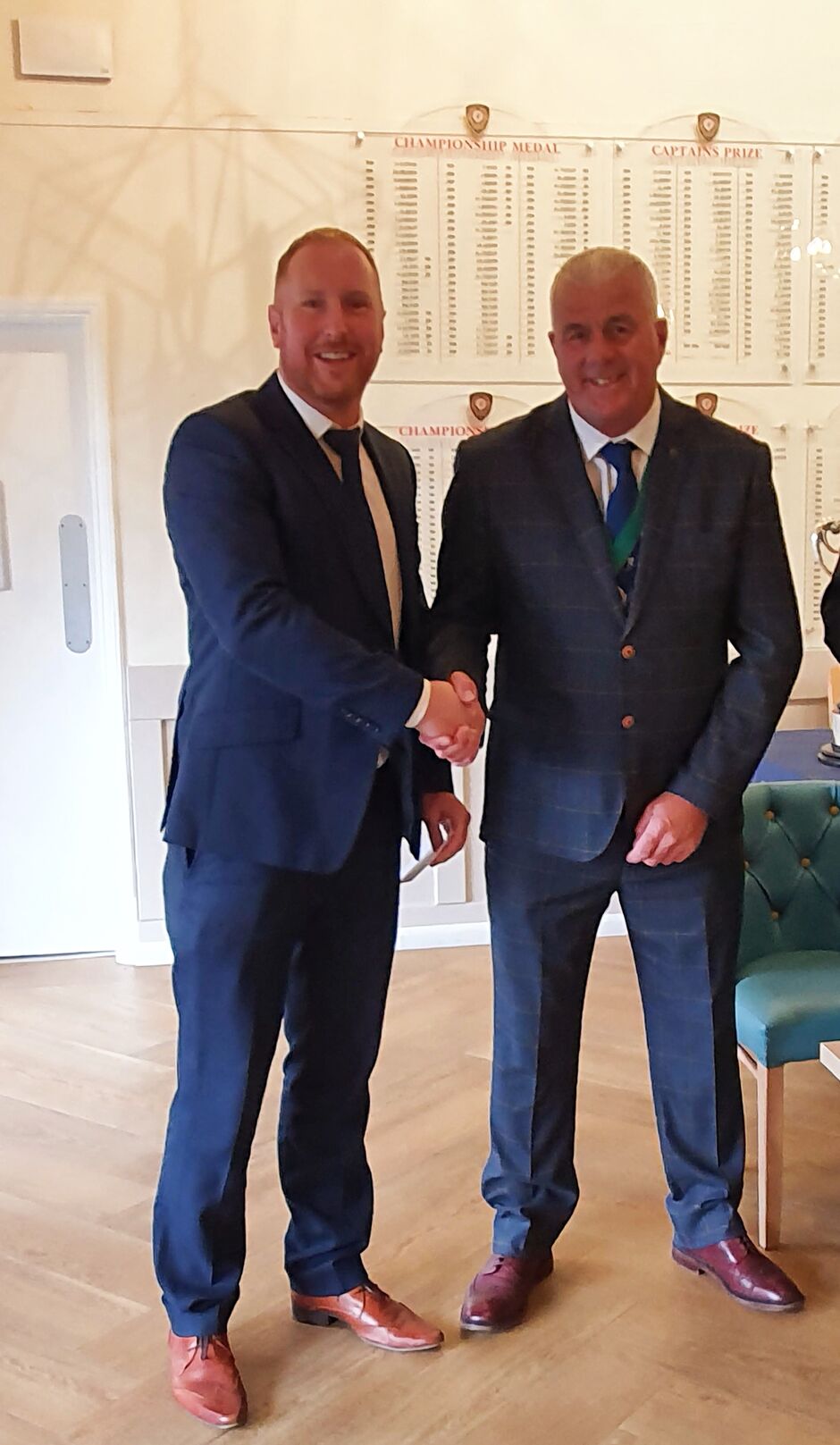 Jonathan Noblet of Worsley GC - 5th with nett 70


OVER £1,000 IN PRO SHOP VOUCHERS WAS AWARDED TO THE WINNERS.

Nett Results & Prize Vouchers

1st Sam Lillie (7) 67 £300
2nd Richard Phillips (13) 69 £200
3rd Lee Wilson (3) 69 £150
4th Tim Green (5) 70 £100
5th Jonathan Noblet (4) 70 £ 75

Best Gross - prize shared after all count backs

Harry Sheridan (0) 71 gross £100
Samuel MacLeod (-2) 71 gross £100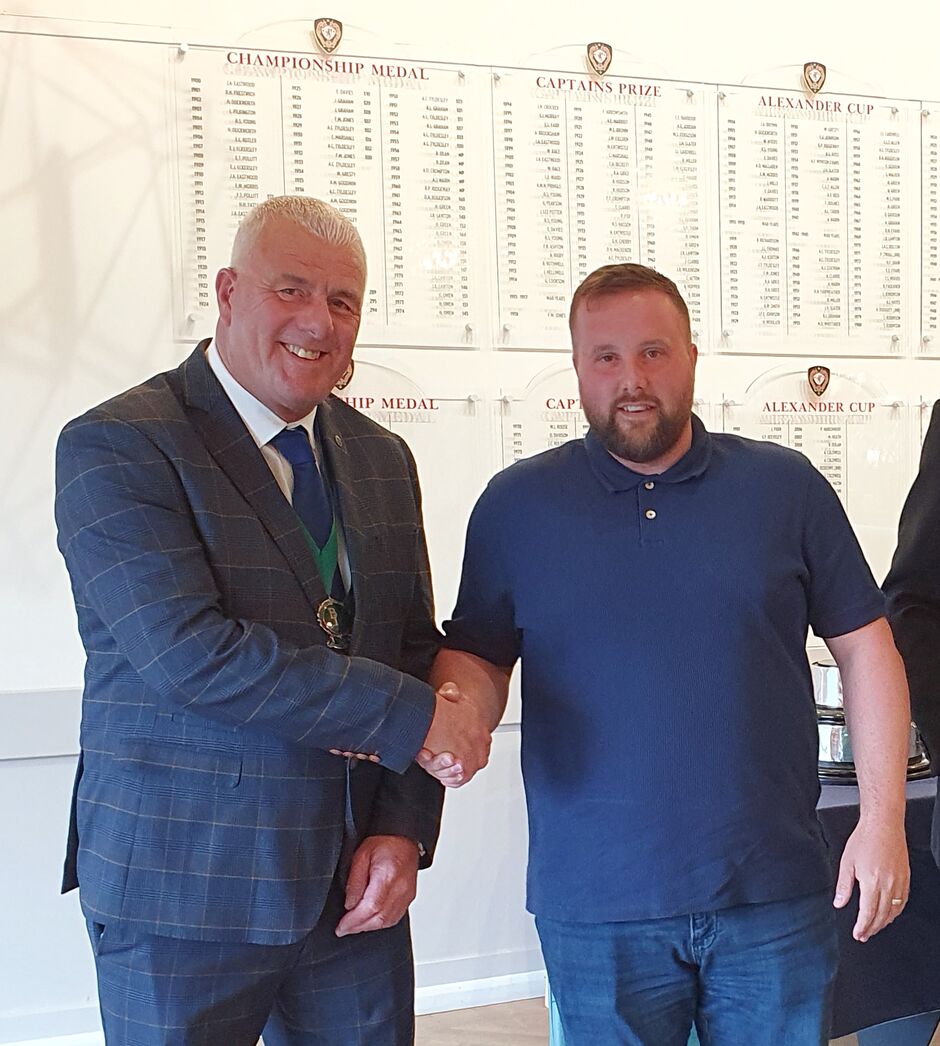 Harry Sheridan (0) of Worsley GC - shared the Best Gross of 71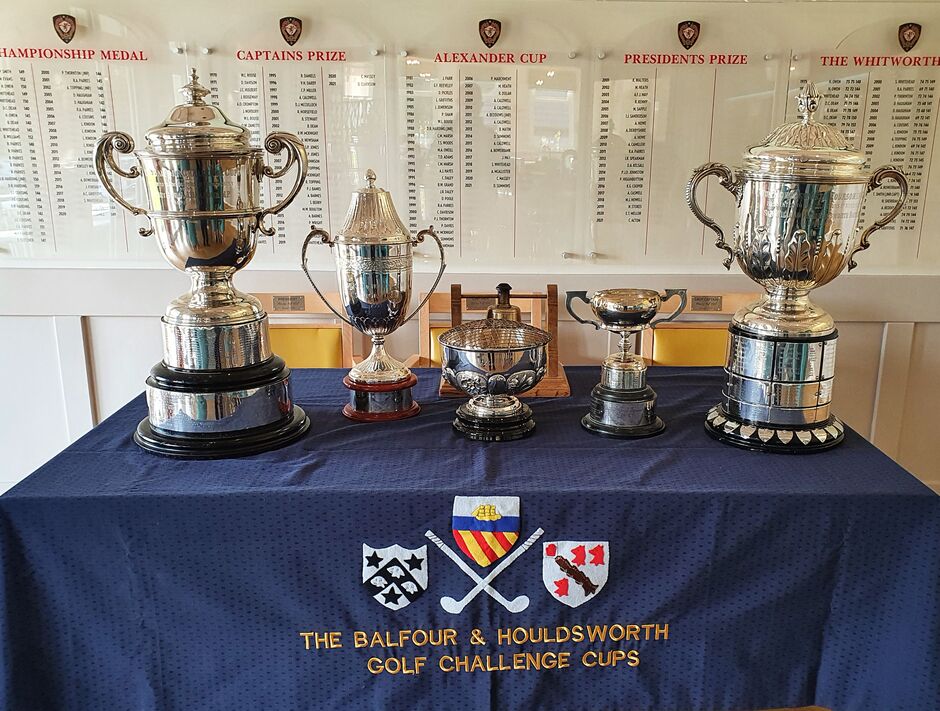 Pat Jackson and David Haley in putting the results